The Department of Zaveduyusçaya
Bruno Aisha Orozbaeva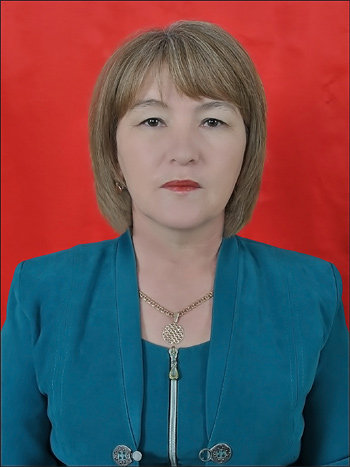 Adress: 715600. – Jalal-Abad, Cycling, Stand 24, Building 3, the audience is 3/111
Phone: (03722) 2-12-28
E-mail: [email protected] ru

Department of "English language and literature"
Department of "English language and literature"
Head of Department
Kalmuratova Aisha Orozbayevna
Adress: 715600. Jalal-Abad, 24 Toktogul Street, Building 3, Room 3/111
Phone: (03722) 2-12-28
E-mail: aisha-kalmuratova @ mail ru
The history of the "English language and literature"
The Department of Foreign Languages ​​was formed along the junction of foreign languages. Because of there were enough teachers and students. There were only six teachers and 50 students. In 1994 the foreign language department was divided into two;
English language department
Foreign language department
L.S.Kochkorbaeva was the A.B.Joldoshbaeva.
In 1998 English language department was divided into the following departments. B.N.Kurmanakunov. Under the head of L.S.Kochkorbaeva.
In 2001, the departments of renas were renamed again. Philosophy A.J.Shamurzaev. After it in 2004, department headed by the candidate of philology, professor A.R.Myrzakulov.
Ph.d. A.O.Kalmuratova has been managigng English language and literature department since 2006.
At this day there are 18 teachers in the department: 1 doctor of philology, 1 candidate of philology, 2 docent, 5 senior teachers, 9 kG and 1 volunteer of Peace Corpus. English language and literature department
L.S.Kochkorbaeva, B.N.Kurmanakunov, M.Myrzaliev, A.Junusbaeva and G.A.Orozbaeva went to USA and Hungary and got professional development proficiency. In 2009 A.O.Kalmuratova and in 2011 G.A.Orozbaeva defended Ph.d. Senior teachers.
She has opened a club, which is called "Bridge".
It is a good idea to complete the study of students; L.S.Kochkorbaeva, 1A.J.Joroeva 1 ling phone room. In these rooms, students will get ready for the practice lessons.
The material well-being of the department consists of 80-90%.
This is a study of the international literature. B.N.Kurmanakunov has been working in the US Peace Corpssince 2002.
However, our teachers gained experience. More than 15 manuals, 30- teaching methodological Instructions, nearly 100 scientific articles were published.
English language and literature department's teachers awards;
The honor of the Ministry of Education and science of KG- 10
The honor of regions 'governer-2
The honor of JASU-16
The honor of town's mayor- 3
The honor of faculty- 26.
Bachelor degree, there are 8 groups. The contingent of the each group is about 30 students. Foreign students from Africa, Turkey, Uzbekistan and Tajikistan are studying. It is a school year.
Kafedranin Okutuuchuluk Kurama
Kafedranin Okutuuchusu, G.O.Orozbaeva, M.Murzaliev, volunteeror, internship
Kafedranin Okutuuchusu G.O.Orozbaeva
M.Murzaliev volunteeror internship
Kafedranin docenti
Budapest