Department of Geography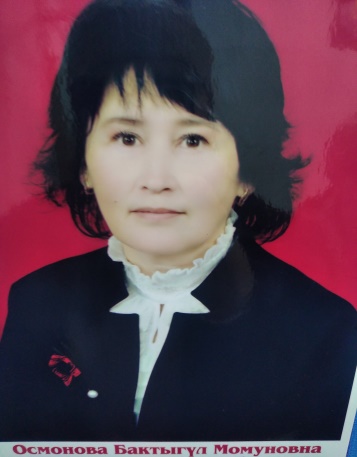 Head of Department, Candidate of Biological Sciences, Associate Professor
Asanova licenses
Adress:Jalal-Abad, Kyrgyz Republic, Manas Ave 80, ATP building, room 314
Phone:(0773) 24-10-93
E-mail:[email protected]

The Department of Geography was opened in 2002 (Decree No. 343 of the Academic Council of the ZhASU dated August 30, 2002)
Since the opening of the department until 2003, the department was headed by Ph.D., Art. prep. R. Akmatov, from 2003 to 2007 – Ph.D., associate professor Rakhmanov T., from 2007 to the present day, the head of the department is Ph.D. Excellent student of the Kyrgyz Republic. He is the author of a monograph, two textbooks, five manuals, more than 90 scientific articles.
Educational activities
Currently, the Department of Geography provides training on
direction 550100 Geography (bachelor);
to the direction 520800 Ecology and environmental management (bachelor);
direction 730100 Forestry and landscape construction (bachelor);
The department provides academic disciplines:
Concepts of modern science,
Ecology
for all areas of medical, pedagogical, philological, economic and legal, natural-technical faculties, the Institute of Continuing Education.
Centers, classrooms, laboratories
There are five educational, two educational and scientific laboratories and one computer-demonstration room at the department:
Training
Geomorphology # 314
Geology with the basics of paleontology №318
Geoecology №311
Socio-economic geography of the Kyrgyz Republic №314А
Methods of learning and making visual aids № 317
Educational and scientific
Ecological Center №313
Scientific – Research Laboratory. T. Rakhmanov №313 B
Computer demo room number 207
Faculty:
The department includes:
8 full-time teachers, 7 part-time teachers.
The qualitative composition: doctors of science – 3, candidates of science – 4, senior teachers – 4, teachers – 4.
Asanova K., Orozbaev B., Mamytova A., Artykbaeva K., Ashimov K.S., Sakbaeva Z.I. are honors of public education
List of faculty members
Established
Asanova Karachach , Ph.D., Associate Professor, Head of the Department
Ashimov Camille Sataroviç , professor d.b.n.
Artykbaev Kumuşay Claims , senior prepodavatel
Joldosheva Toktokan Belekov, prepodavatel
Anara Kerimbekovna Jeenmırzaevna, prepodavatel
Mamytova Aigul Kenzhekulovna, Senior Lecturer
Orozbakov Steel Suyunalieviç, k.s, professor, h.n.
Kosachev Beyonce R., senior prepodavatel
Internal partitions
Aitikeev Nurlanbek Dzholdoshbekovich, senior prepodavatel
Pratova Holiday Taştemirovna, prepodavatel
Moldogazieva Zulfiya Israilov, professor, d.b.n.
Mr. Toktoraliev Slade, professor, k.b.n.
Termechikova walks Offer prepodavatel
Professor, speech, Speaker Kayimoviç d.pol.n.
Asanova Mamramkan Jamankulova laboratory
External partitions
1. Kamilova Lola Toktomuratovna, Ph.D., senior teacher.
Educational work
Teachers of the department prepared textbooks, educational, teaching and visual aids for the disciplines assigned to the department. The computer-demonstration room of the department is equipped with a slide projector, a projector, computers, a moving demonstration screen on geography. When conducting classes, visual material is used (stands, tables, CDs, video films, etc.). The laboratories of the department are equipped with the equipment necessary for conducting laboratory classes.
Research work (SRW)
Topics of research work of the department
1. Application of effective measures and forecasting of exodynamic processes located at different altitudinal geomorphological zones of the mountain system of the southwestern Tien Shan
2. Investigation of changes in exposure to ultraviolet rays in the seasons of the year in the city of Jalal-Abad.
State budget themes of research:
Study of the damaged ecosystem of biological diversity, soil and water regime under the influence of the development of polymetallic ores of the Terek-Say group of the Chatkal ridge by various technological methods
Research work of students (NIRS)
Research work of students is an obligatory, integral part of the preparation of students of the department.
For research work at the department organized student circles "Geoid", "Ecopolis".
The development of research skills for students begins on the 1st course. Taking into account the interests and abilities of students from the department's part, the scientific adviser and themes of the work under study are consolidated. The selection of actual research works of students is carried out in three stages: the first at the department level, the second – the faculty and the third – at the university level. Winners of prizes will be awarded with diplomas, certificates, valuable prizes. Scientific works of students are published in the journal "Journal of Zhagu".
Exhibition exhibits, models, models, collections of minerals and rocks made by students annually participate in seminars and exhibition conferences.
Main publications of the department
Monographs:
Asanova K. The role of enzyme systems of metochondria in improving the resilience of animals during hypoxia. Jalal-Abad: ZHAGU, 2010 150s
Teaching and teaching aids:
Minbayev M.Sh., Rakhmanov T. Meterologiya and Climatology course, the importance of experience. Manual. Jalal-Abad, 2003, d.
AK Mamytova With the basis of geological and paleontological uçebno- methodically complex. Jalal-Abad, 2005, d.
Mamytova A.K. Geology is an educational and methodical complex. J-Abad 2003
Asanov, K. E. Satkankulov Session Inspection of teaching methods in biology, and international assignments. Jalal-Abad, 1998, d.
Asanova Botbaeva M., K., et al. On the subject of the biology, ecology and workshops. 1999, d.
Asanova K. Oshin K. Practical studies on human and animal physiology laboratory. Jalal-Abad, 2012, d.
Recieves Asanova K, K. Human and animal physiology. Conservatory. Jalal-Abad, 2016, d.
Asanova K., Almatov K.T. Physiology of blood circulation. Jalal-Abad 2003
K. resolution, Ashimov KS, et al. With the basis of the soil geography, soil science laboratory workshops on the subject of A-2015-d.
Joldosheva TB, Asanova K. Recreational geography. Manual. Jalal-Abad, 2015, d.
Artykbaev K.N., Asanova K. The concept of the natural sciences. Manual. Jalal-Abad, 2016, d.
Kerimbekovna A.Zh. Geography of continents and oceans. Uçebno – methodically complex. Jalal-Abad, 2016, d.
Orozbaeva Asanova's introduction, K., et al. The importance of non-organic substances in the organism. Conservatory. Jalal-Abad, 2010, d.
Kerimbekovna A.Zh. Practical studies of the social economy. Jalal-Abad, 2016, d.
Artykbaeva K.N., Termechikova S.M. The concept of modern science. Training and metodology complex. Jalal-Abad 2003
Aitikeev tunnels Jaşıldandıruununu. Manual Jalal-Abad, 2015, d.
Mr. Aitikeev tunnels, NS i.dr. Protective forests. Manual Jalal-Abad, 2012, d.
The object Aitikeev N.J Forest reclamation. Course guidelines of the executive decree. Jalal-Abad, 2007, d.
Kenjebaev CK Aitikeev N.J Horticultural Conservatory. Jalal-Abad, 2008, d.
Moldogazieva Z. Damage to the planet earth ozone layer. Manual. Jalal-Abad, 2010.
The teachers of the department have written more than 37 syllabus.
Scientific publications :
The teachers of the department have written and published more than two hundred and fifty scientific articles.
Patents:
Orozbaev B.S. Son-Kul factory type of sheep of the Kyrgyz fine-fleeced breed. Patent of the Kyrgyz Republic №1 (1998)
Participation in conferences, symposia and seminars
Teachers of the department systematically participate in seminars and conferences held in Kyrgyzstan and abroad. Awarded with certificates and all sorts of awards.
The international cooperation
The department maintains scientific and educational relations with leading universities of the near and far abroad:
Transbaikal State University
Osh State University
English state university named. J. Balasaghun
Bishkek University of Humanities
Kyrgyz State Pedagogical University. I. Arabaev
National Academy of Sciences of the Kyrgyz Republic.
Tashkent State University
After the 2nd year students of the department have the opportunity to continue their studies and practice in other universities and research institutes of Kyrgyzstan and abroad under cooperation agreements