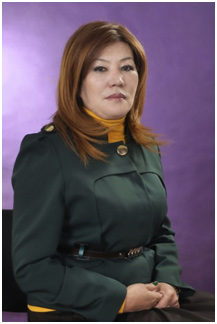 Head of Department, Candidate of Philological Sciences, Associate Professor
Chokoeva Dilbar Mamatkulovna
Adress: Jalal-Abad, Toktogul str. 22, building 1, room 201.
Phone: 0772 82 14 19
E-mail: [email protected]
The department "Kyrgyz language and literature" was opened in 1995. (No. 4-4 of June 3, 1994), in connection with structural changes, by order of the Rector No. 17 of 1.09.2009, the Department of Kyrgyz and Foreign Literature was established and renamed the Department of Kyrgyz, Foreign Literature and Journalism in 2016. (Order No. 28 of 02/09/2016).
Since the opening of the department until 2009, the department was headed by Ph.D., associate professor Kalchakeev K. B., in 2009-2016. Ph.D., Io Associate Professor Kadyrova, from April 2016 to the present, Ph.D., Associate Professor D.M. Chokoeva.
Educational activities
Currently, the Department of Kyrgyz, Foreign Literature and Journalism provides training on
The direction 550300 philology teacher of the Kyrgyz language and literature
Direction 530600 journalism

Centers, classrooms, laboratories
The department operates one reading room to them. Professor K. Asanaliev, four lecture halls, one educational and methodical study, one studio "Bayan", one multimedia room.
The department includes:
7 full-time teachers, 3 part-time teachers, 1 specialist.
Qualitative structure: candidates of sciences – 4, senior teachers 3
List of faculty members
Chokoyeva Dilbar Mamatkulovna, Ph.D., associate professor
Anady Kadyrova, associate professor
Kalchakeev Kubanychbek Bekbolotovich F.I., associate professor
Eshiev Zharkul Abdumitalipovich p.i.k., associate professor
Amatbekova Saikal Zhunusovna senior teacher
Sheripbaev Amangeldi Rakhmanovich Senior Lecturer
Tokurova Ayday Omurzakovna Senior Lecturer
Bolotbekov Kubanych Madanovich senior teacher
Adykulova Aichurek Mamatbekovna teacher
Kadyrbekova Batma teacher – part-time
Akzholov Akim specialist

Educational work
The teachers of the department prepared textbooks, educational, teaching and methodical and advanced manuals on the disciplines assigned to the department. In conducting classes, visual material is used (stands, CDs, video films). The educational and methodical office of the department is equipped with the necessary equipment (PC, interactive board, projectors).
Research work (SRW)
The research work of the department is carried out in the direction of features of the plot and composition of the epos "Manas", national literature in the context of world literature, identities and the difference of options in S.Karalaev and J.Mamai manaschi. Currently, the department has 2 doctoral students, 2 applicants.
Main publications of the department scientific publications
Chokoeva D.M. The myth-making of Ch. Aytmatov in the interpretations of the scientist Kalyk Ibraimov
D. Chokoeva. The semantics of the artistic image: its introverted and extraverted aspects.
Chokoyeva DM, Gelekchi Seyfeddin Identity of oral works among Kyrgyz living outside the Kyrgyz Republic.
Chokoeva D.M.
Kalchakeev K.B.
Kalchakeev K.B.
Kalchakeev K.B.

Participation in conferences, symposia and seminars
Chokoeva D.M. "Aitmatovduk Okuular – 2015" El Aralik Ilimi-Practical Conference Bishkek 2015, 12-13-December.
Chokoeva D.M. Түрк дүйнөсүндөгү имий изилдөөлөр. – 2016, May, Jalal-Abad w.
Chokoeva D.M. "Aitmatovduk Okuular – 2016". Al Aralyk Ilimiy Practicalk Conference. Bishkek 2016, 12-13-December.
Kadyrova A. Insanga bagyttap okutuu – 2012-jildan take karay mektepterde jana JaJdordo өtүlgun seminar seminary KRnyn bilim berүүүүnүn uluttuk coach.
Kalchakeev K.B. Zhusup Mamaydin Manaschylyk Salty – El Aralyk Ilimi-Practical Conference. Jalal-Abad, 2016, hot, May.
Kadyrova A. – "Yyk Ata-Zhurt" Komduk Fondunun Zhyl Sayin Otkruklүүchү "Bilim Bern – Kechee, Bүgүn Jean Kelechekte Atuta Symposiumun katyshuuchus.
Sheripbaev A.R.

The international cooperation
Institute of Language and Literature. Ch. Aytmatova Academy of Sciences of the Kyrgyz Republic;
Chairs Kyrgyz literature, foreign literature and journalism at Osh State University;
Chairs of Humanities University Economics and Management;
Department of Manas Taanu and Kyrgyz Literature of Zh. Balasagyn Kyrgyz National Scientific University;
Faculty of Journalism of the Kyrgyz State National University named after J. Balasagyn;
Confucius Institute at ZN Balasagyn Kyrgyz National State University;
Faculty of Mansovedics at the University. I.Arabaev.