Department of Pharmacy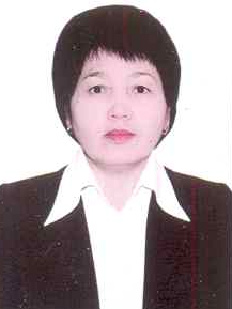 And about. Head of Department, Candidate of Biological Sciences, Associate Professor
Star Orozbaeva Maripov
Adress:g.Jalal-Abad
Phone:996 771 17 17 17
E-mail:[email protected]

The Department of Pharmacy was opened on the basis of the Department of "Biomedical disciplines" in 2013 (order number 1/3/32/13/13) Since the opening of the department, the department was headed by Ph.D. Sh.S. Begaliev.
Educational activities
Currently, the Department of Pharmacy provides training on
specialty 560005 Pharmacist;
The department provides academic disciplines:
Botany
General and clinical biochemistry
Medicinal plants of Kyrgyzstan and natural medicines
Pharmacognosy
Pharmacology
Pharmaceutical Chemistry
Control and quality of medicines
Resource science
Drug Technology
Management and Economics of Pharmacy
Pharmaceutical technology of dosage forms
Pharmacy Information Systems
Basics of pharmacotherapy and clinical pharmacy
Toxicological Chemistry
Analysis and merchandising in pharmacy
Biotechnology
Clinical Pharmacology
Medical and pharmaceutical commodity research
Pharmacy Management and Marketing
Phytotherapy Basics
For the specialties "Pharmacy" and "General Medicine".
Centers, classrooms, laboratories
There are six training, five laboratories, one student research laboratory, one preparatory room at the department:
Training
General and Clinical Biochemistry (Head – Orozbaeva Zh.M.)
Biochemistry (Head – A.N. Rajabaliyeva)
Technology of medicines (head.- Razykova N.Kh.)
Pharmacognosy (Head – Razykova N.Kh.)
Management and Economics of Pharmacy (Head – Zhorobaev AS)
Pharmacology (zav.- Zhusubaliyev Chortonbaev)
Laboratories
General and clinical biochemistry (Head – Artemyev Yu.N.)
Biochemistry (Head – A.N. Rajabaliyeva)
Pharmaceutical Chemistry (Head – Razykova N.Kh.)
Toxicological chemistry (Head. – Zhusubaliev T.ZH.)
Development of Botany (zav.- MM)
Faculty:
The department includes: 5 full-time teachers, 5 part-time teachers.
Qualitative composition: doctors of science – 1, candidates of science – 2.
Educational work
Teachers of the department prepared syllabuses, teaching and visual aids on the disciplines assigned to the department. When conducting classes, visual material is used (stands, tables, CDs, video films, drawings, herbaria, etc.). The laboratories of the department are equipped with equipment, microscope, chemical devices, utensils and reagents necessary for laboratory work.
Research work (SRW)
Directions of scientific research of the department
Prevention of endemic goiter, synthesis of seleno-organic compounds and determination of biological activity
Determination of the composition of the waters of the Jalal-Abad region
Chemical analysis of the composition of medicinal plants
Research work of students (NIRS)
The department has a research circle for students "Biochemist" and preparatory work is underway to open the Phyto-Pharmacist research laboratory
Main publications of the department
Monographs:
Begaliev Sh.S., Abdullabekova RM "Drugs of iodopolymers". –Bishkek: 2015. 7.75 p. L.
Teaching and teaching aids:
Orozbaeva Zh.M. "A course of lectures on normal physiology." – Jalal-Abad: ZhASU, 2013. -242 p.
Orozbaeva Zh.M. "Course of lectures on bioinorganic chemistry". – Jalal-Abad: Zhagu, 2014. -150 p.
Orozbaeva Zh.M. and others. "Workshop on bio-organic chemistry." – Jalal-Abad: Zhagu, 2015. -160s.
Bakalaeva L.K. and others. "Practical work on analytical chemistry." – Jalal-Abad: ZhASU, 2015. -220 p.
Irisova GM i.dr. 'Vitamins' lectures jıynagı.- Jalal-Abad: LeasePlan, 2015. -100 c.
Scientific publications:
Orozbaeva Zh.M. "Determination of the quality of drinking water in the resort of Jalal-Abad" 23.03.12.IV. International scientific correspondence conference. Scientific and practical journal. Medical University. Moscow
Orozbaeva Zh.M. et al. "Perspectives of tourism development in a unique, mountainous Kyrgyzstan" // NSU. University news 2013.
Choyunova A.T. "The source of the child's mental development of the tradition of labor education in folk pedagogy" // Reports of the scientific-practical conference dedicated to the 70th anniversary of the University. I. Arabaev. 2015
Choyunov ATFomenko 'People's pedagogic ideas and yospsçrsçmdyordsç adeptsçsçlsçkkyo education, science Bulletin Nats.universiteta others. Kyrgyz national University named. 2015.
Irisova G.M. "Determination of fluorine in the composition of water" // KTMU .2015.
Orozbaeva Zh.M. and others. "Iodine and its value in the body" // Vestnik Zhagu. 2015
The international cooperation
The department maintains scientific and educational ties with leading universities in the near, far abroad and the republic:
Moscow State University. Mv Lomonosov
Karaganda Medical University
Kyrgyz State Medical Academy
Issyk-Kul State University
Naryn State University
Osh State University