Faculty of Medicine Department of Obstetrics and Pediatrics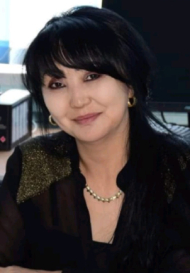 Head of the department Candidate of Medical Sciences
Cori culinary Adılgazievna
Adress:Kyrgyz Republic, Jalal-Abad, Pushkina St. 148
Phone:(996)772113077
E-mail:[email protected]

The Department of Obstetrics and Pediatrics was established in 2016. (by order No. №78 from August 30, 2016) Since 2016, the department is headed by Candidate of Medical Sciences, SadyrovaNurgulAdylgazievna
Studying proccess
The main objectives of the training department of obstetrics and pediatrics are:
training a doctor with general and special competencies, universal and subject-specific competences that contribute to his social mobility and sustainability in the labor market.
Readiness for postgraduate education with the subsequent implementation of professional medical practice in the chosen field
The department conducts classes in the following disciplines:
Nurse Assistant (practice)
Children's diseases, radiation diagnosis
Assistant paramedic emergency and emergency medical care (practice)
Children's diseases, radiation diagnosis
Children's diseases-2
obstetrics and gynecology
Children's Diseases-2 (propediatrics)
Health promotion and promotion activities
Psychiatry and Narcology
obstetrics and gynecology
Children's Diseases-2 (propediatrics)
Clinical Pharmacology
obstetrics and gynecology
Dermatovenereology
Endocrinology
Infectious diseases
Public Health and Health Care
Classrooms and Laboratories
The department has lecture halls and corresponding classrooms in all the above listed subjects.
Scientific directions of the department:
A study of clinical and epidemiological characterization of newly detected viral hepatitis BD.
Implementation of IBDOM and IBDOR programs; (The initiative of safe, good-natured treatment of the child and the mother).The benefits of exclusive breastfeeding for up to 6 months.
Faculty:
The composition of the department:
Regular teachers -3 , part-20,
Sadyrova Nurgul Adylgazievna – candidate of medical sciences, head of the department
Seidaliyev Askar Dzhumabaevich
Jabarov Young Zulpukaroviç
Kozhaliyev Alaichy Kozhalievich PhD, associate professor
Temirov Nemat Myunovich, PhD, assistant professor (vn sovm)
Dismissed Jonnah Çirmaşevna (ext Lorentz)
Djılçikeeva Nuraiym Abdıvasipovna
Atekova blouse Erkinjon
Mambetalieva Aysullu Zinolovna
Professor Sulaymanov Shayirbek Alibaeviç -d.m.n.
Bokombaev Dilbar Omurzakova
Gaibberdiev next Eşenguloviç
Minister Poumnabonia Satıbaldieviç
Samartkanov Nursultan Madumarov
Matkasymov Johnnie Abdimanapovna
Carbonesenateportrait.jpg involved Kamalidinovna
Karabaev Alex Kalmatoviç
Mirzabekova Aigul Manapovna
Izabekova Rahat Alymbekovna
Omuraliev Abdimajit ABAKIROVICH
Zheenalieva Gulnara line
Anara Oncology Shabolotova
Babaev Daniyar Knyazevich
Department cooperation
The department actively develops cooperation in the training of personnel of the highest scientific qualification and improvement of the quality of educational activities with various universities, both within the country and abroad.
Kyrgyz State Medical Academy . I.K. Akhunbaeva ;
Gu
KRSU
International University Ata Turk-Ala TOO.